Douglas B-26K (A-26A) "Counter Invader"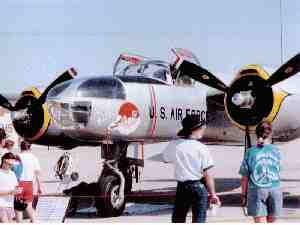 The Counter Invader was a highly modified version of the Douglas A-26 Invader, a WW II attack bomber. Redesignated B-26 in 1948, the Invader served again during the Korean Conflict (1950-53), mainly as a night intruder against North Korean supply lines. It was removed from service in 1958, but in 1961 the USAF recalled many Invaders for use as tactical bombers in Southeast Asia (SEA). Combat duty and two decades of wear took their toll and, in 1964, the B-26s again were removed from service.

In 1966, the old bomber was resurrected once more when the improved B-26K Counter Invader returned to SEA for ground-attack missions along the Ho Chi Minh Trail. Modified by the On Mark Engineering Co., the B-26K had a rebuilt fuselage and tail, strengthened wings, improved engines, reversible propellers, wing-tip fuel tanks, and other refinements. Redesignated A-26As in 1966, Counter Invaders remained in SEA until 1969, then were removed for disposal.

Originally an A-26C converted to B-26K, the Counter Invader on display was one of the first six to arrive at Nakon Phanom Royal Thai Air Force Base in 1966. In November 1980 it was flown to the Museum.

SPECIFICATIONS
Span: 71 ft. 6 in.
Length: 51 ft. 7 in.
Height: 19 ft.
Weight: 38,314 lbs. max
Armament: Eight .50 cal. nose guns, eight wing pylons capable of carrying 8,000 lbs. of mixed ordnance, and 4,000 lbs. of bombs internally
Engines: Two Pratt & Whitney R-2800-52Ws of 2,500 hp. (max. with water injection)
Crew: Two
Cost: $577,000

PERFORMANCE
Max. speed: 323 mph/281 knots
Range: 2,700 statute miles/2,346 nautical miles
Service ceiling: 30,000 ft.
More Counter Invader images...

---
Go to the next display
Research and Development Aircraft Main Page
---